Rotational molding processing plant science: about rotational molding polyethylene corrosion resistance research
22-09-2022
The process of degradation of material properties due to the action of material and surrounding medium is called corrosion. The economic loss caused by corrosion is huge, and the annual loss due to corrosion in China is as high as 4.2% of the gross national product (GNP). In addition to the huge economic losses, corrosion can also be harmful to personal safety and have a bad impact on the operation of industrial production facilities and infrastructure. Therefore, corrosion and protection research has important economic and social benefits.
Polyethylene materials have excellent corrosion resistance, and are ideal for corrosion protection because of their low density, easy processing and low cost. The use of rotomolding of polyethylene materials as a surface protection layer for metal materials can effectively improve their service life. In the rotomolding industry, 90% of rotomolded products are made of polyethylene.
In China, 95% of polyethylene rotomolding products are made from linear low density polyethylene (LLDPE), while the quality fraction of foreign products is roughly 65% for LLDPE, 2% for cross-linked polyethylene (XLPE), 10% for high density polyethylene (HDPE), and 5% for low density polyethylene (LDPE).
Rotational molding processing plant summarizes the application range of polyethylene rotational molding composite pipe in general, that it is suitable for all alkaline solutions, non-oxidizing acids (such as hydrochloric acid, phosphoric acid, carbonic acid solution, etc.) and dilute solutions of oxidizing acids; not suitable for saturated solutions of oxidizing acids (fuming sulfuric acid, concentrated nitric acid, aqua regia, etc.), highly oxidizing gas solutions (ozone, bromine, liquid chlorine, carbon disulfide, etc.), solvent performance of strong organic solvents (benzene, toluene, acetone, etc.) and other strong oxidizers or organic solvents (sulfur trioxide, dichloroethylene, etc.).
However, quantitative studies of corrosion rates and mechanical property changes of polyethylene materials in various corrosive media are rarely reported, and the study of corrosion resistance of rotomolded polyethylene has important application value.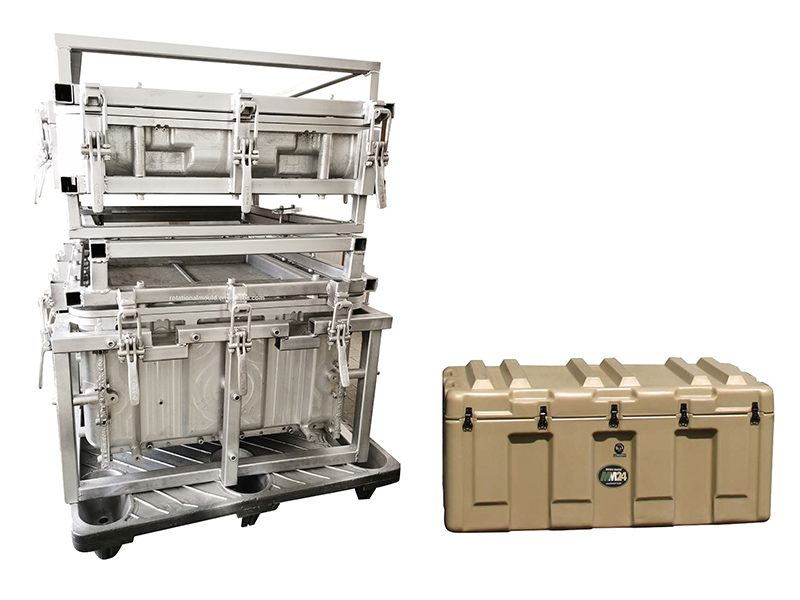 Most of the non-metallic materials corrosion resistance testing using physical methods, commonly used non-metallic materials corrosion resistance testing methods are corrosion immersion test, electrochemical impedance spectroscopy and tensile test, etc.
1、Immersion test
Soak test is to make the material into a certain shape of the test piece, immersed in the simulated natural conditions of the corrosion medium, after a certain period of time to remove, cold air dry and weighing, according to the change in the quality of the test piece can be obtained from the corrosion rate of the material in the medium. Immersion test is closer to the actual conditions of a corrosion test method, the results are real and reliable. But usually, the speed of the immersion test is slow, need to wait a long time, not suitable for rapid large-scale test.
2, electrochemical impedance spectroscopy method
Electrochemical impedance spectroscopy (EIS), also known as AC impedance method, EIS is a small amplitude sinusoidal signal excitation to the system under test, so that the system produces an almost linear correlation of the response, so as to obtain a certain frequency range of impedance spectrum, and then through the relevant analysis means to obtain the electrochemical information of the system measurement method.
EIS applies a micro-sine perturbation to the material, which has almost no effect on the coating, so multiple measurements can be made.
3、Tension test
Tensile test is a very common method to investigate the mechanical properties of material specimens. In the process of corrosion, the mechanical properties of the material will change, especially the polymer material in the corrosion, swelling, its mechanical properties will decline, so through the tensile test can be investigated the degree of corrosion of the material, and get many parameters of the specimen, such as elastic limit, yield strength and elongation elongation rate at break, etc.